APRIL 2022 —- STOP PRESS!!!
Dear Readers, please note that the website is currently frozen and not being updated. Since its beginnings in 2006 the site has been consistently acknowledged as a very useful resource for yoga studies, but is in need of some rethinking and restructuring to get it up to date. The site managers and other interested parties are looking into the matter, and we hope that a new version of the site will be offered to the public in due course. In the meantime, do feel free to enjoy its contents, and thank you for your interest in our work!
Podcasts and Audio Interviews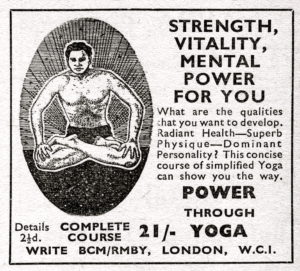 The History of Philosophy without any gaps. 'Yoga.' Interview with Philipp Maas on the Pātañjala Yogaśāstra. 26 November 2016.
The Religious Studies Project. 'Historical, Popular, and Scholarly Constructions of Yoga.' Interview with David Gordon White. 22 June 2016.
BBC Radio 4/Culture Wise. 'Secret History of Yoga.' Featuring Jim Mallinson, Suzanne Newcombe and Mark Singleton. 17 June 2016.
Interfaith Voices. 'How yoga migrated from India to your local gym.' Featuring Andrew Nicholson. 11 March 2016.
BBC Radio 4. 'Yoga' on Beyond Belief. Featuring Jim Mallinson and Suzanne Newcombe. 10 February 2014.
Review Articles
Newcombe, S. (2017) 'The Revival of Yoga in Contemporary India' In: Barton, John ed. Oxford Research Encyclopedias: Religion. Oxford: Oxford University Press. DOI: 10.1093/acrefore/9780199340378.013.253.
Bronkhorst, J, Chapple, C.K., Patton, L.L., Samuel, G., Sarbacker, S. R. and Wallace, V. (2011) 'Contextualizing the History of Yoga in Geoffrey Samuel's The Origins of Yoga and Tantra: A Review Symposium' International Journal of Hindu Studies15(3): 303-357.Baier, K. (2012) 'Modern Yoga Research: Insights and Questions'.
Farmer, J. (2012) 'Americanasana' (with special attention to Mark Singleton's Yoga Body: The Origins of Modern Posture Practice, Stefanie Syman's The Subtle Body: The Story of Yoga in America, and Robert Love's The Great Oom: The Improbable Birth of Yoga in America) in Reviews in American History40:145–158..
Newcombe, S. (2009) 'The Development of Modern Yoga: A Survey of the Field' Religion Compass 3(6): 986-1002. A pre-publication draft is available for reference as a pdf.
Bibliographies
South Asian forms of yoga and meditation, by Elizabeth De Michelis
An annotated bibliography presenting materials on background and essential reading.
Last updated 24 December 2008
A Modern Yoga bibliography, by Suzanne Newcombe
Last updated 19 June 2010
IONS Bibliography on Meditation
A regularly updated, searchable bibliography of meditation research; also many entries on yoga.
Miscellaneous
Timeline: Connecting the Threads – The Convergence of Yoga and Ayurveda from 1900-Present, by Suzanne Newcombe
One of the major aims of the AYURYOG project is to explore the entanglements of yoga and Ayurveda. This resource has been created to help visualise these entanglements in the twentieth century. See the blog post on this timeline here.
Timeline: Modern Yoga in Britain, by Suzanne Newcombe
A chronological overview of the history of modern yoga in Britain in tabulated form.
Last updated 6 June 2011
Yoga Survey, by RMIT University (Melbourne, Australia)
Read about the Yoga Survey, download survey results and other related materials.
Links
The British Association for South Asian Studies
The Oxford Centre for Hindu Studies lectures
Many interesting lectures including several on yoga.
Indology: Resources for Indological Scholarship
Many useful research tools.
Work by Prof. Alexis Sanderson
Prof. Alexis Sanderson's field of research is early medieval religion in India and Southeast Asia, with a special focus on the history of Śaivism, its relations with the state, and its influence on Buddhism and Vaishnavism. Much of his work provides very useful information on the wider contexts of medieval forms of yoga.
The Luminescent
The personal blog of modern yoga research network member Dr Jason Birch and Jacqueline Hargreaves.
Klas Nevrin's personal site
Klas Nevrin is a musician from Sweden who has also done academic work on modern yoga for several years. A list and several downloads of his publications can be downloaded from his site.
The Open University's Making Britain
Information about South Asians in Britain from 1870 to 1950.
The British Library's Asians in Britain
Information on over 450 South Asians in Britain from 1870 to 1950, the organisations they were involved in, their British connections and the major events in which they participated.